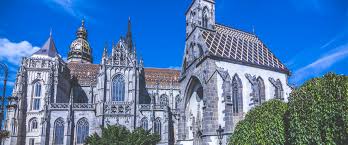 In case you are in the east of Slovakia it is worth of it to combine a visit of towns of east Slovakia and also to enjoy few days in the mountains. In the east of Slovakia, you shouldn´t miss the visit of Košice, Prešov, Poprad, Bardejov, etc…..
The second biggest town of Slovakia KOŠICE is not only the centre of eastern Slovakia but also the core of the Eastern Carpathians where
several ethnicities live. Košice is close to Hungary, Poland, as well as Ukraine. It offers mixture of history, modernism, culture and surrounded by nature.
Being the economic and cultural centre of eastern Slovakia, Košice is the seat of the Košice Region and Košice Self-governing Region, the Slovak Constitutional Court, three universities, various dioceses, and many museums, galleries, and theatres, zoo and botanic garden with its special and large variety of butterflies. Košice is also an important industrial centre of Slovakia.
The city has a well-preserved historical centre, which is the largest among Slovak towns. There are many heritage protected buildings in Gothic, Renaissance, Baroque, and Art Nouveau styles with Slovakia's largest church: the St. Elisabeth Cathedral that is the largest and the most important example of Gothic architecture in Slovakia. Its construction was started in 1345 and completed in 1508.
Why to visit St. Elisabeth Cathedral?
There are many spiritual and cultural reasons for its visit but beside this
– it is the biggest cathedral in Europe,
– the view from the tower of the cathedral provides you the best view of Košice,
– it is newly reconstructed.
The symbol of Košice is also the statue of the Marathon Runner. It reminds that the International Peace Marathon is organized in Košice every year in autumn since 1924. It is one of the oldest marathons in the world.
If you travel to east of Slovakia you shouldn´t miss Košice
We are glad to provide you our services.